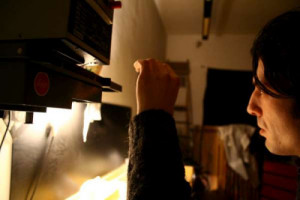 Andrea Simeone.
Nasce a Napoli, nel 1975. Scrive e fotografa cercando.
Il suo primo romanzo, Recinto di Porci, é stato pubblicato da Pequod nel Novembre del 2007. La sua ricerca fotografica parte dalla fotografia di strada e dalla ricerca in bianco e nero, dalla casualità delle combinazioni plastiche, dal caos, dalla strada.
Nei suoi lavori sono fondamentali l'analisi e la critica sui moderni canoni di bellezza, sulla politica dell'infelicità, toccando la pura fotografia di ricerca, fino ad arrivare alla ricerca sulla memoria e sui cimiteri di guerra.
Born on November the 1st 1975 in Napoli, where he grew up. His approach to shooting as well as writing (his first novel, Recinto di Porci, was released in 2007 by Pequod) is the passionate search. His search starts with street photography; his shoots are a combination of case and casualty, with the attention of the reportage and the tension of the story-telling.
In his works, he analyses the canons of modern beauty and welfare, the projections of desire, the politics of unhappiness.
He explores Memory and its representation in war cemeteries.
A.Simeone@Gmail.com
0039 366 54 90 559
PhNegative.com
AndreaSimeone.it
War-Cemeteries.com
————————–
Fotografia e scrittura ai tempi di internet.
Mondo domande  e visioni.
Racconto la città che vivo. Racconto l'anima di quello che mi turba.
Racconto e provo ad evocare, come alchimista pietra filosofale.
La città è piena di anime urlanti, che scrutano, giudicano, chiedono di essere liberate, o sperano che tu diventi come loro.
Vuote. Piatte.
Due dimensioni di infinito inferno.